Snowman Patterns for the Knifty Knitter Looms
There are so many adorable snowman patterns available for the Knifty Knitter loom online, I decided to collect them all here. All have photos, so you can see a sample of the finished project. These snowmen are perfect knitted Christmas crafts and gifts.


Photo Credit: Grant MacDonald
Snowman Sweater
Pattern for the Knifty Knitter Looms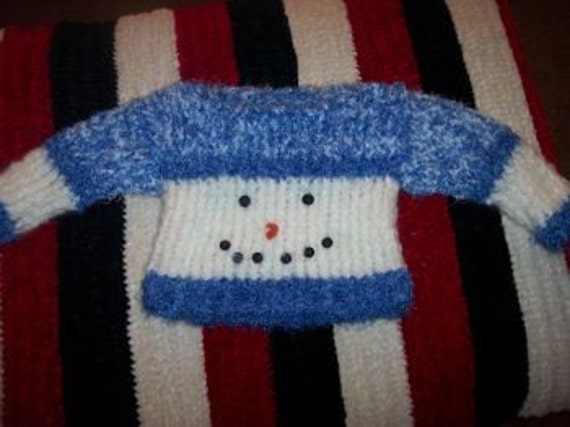 This super cute snowman sweater pattern is available at Etsy.com, but it's free. You'll need the green round loom.
Snowman Sweater
Stuffed Snowmen Pattern
for the Knifty Knitter Flower Loom
This pattern comes from the Loom Lore blog where she explains how to make these stuffed snowmen with the flower loom. If you have some extra time, she also has some adorable holiday angels on this blog that can be loom knitted also.
Stuffed Snowman Craft
Frosty the Snowman Hat Pattern
for the Knifty Knitter Looms
How cute is this? Make sure that the kids on your Christmas list are decked out in this Frosty hat this winter season.
Frosty the Snowman Hat Pattern
Stanford the Snowman Pattern
by Sweet Things Di Zia Sara's Blog
This pattern is being sold for $4.00. It features the e-wrap stitch.
Stanford Snowman Pattern
More Snowman Patterns
for Your Knifty Knitter Loom
This stuffed trio of snowmen is from Bev's Country Cottage. The hat and body of the snowmen is knitted using the blue loom, or smallest loom in the round loom set. For the scarves, they recommend using the "wonder knitter" or crocheting them. Another option that I would suggest is following the instructions for an "I-cord" and simply making the cord slightly wider. It would make a perfect snowman scarf and you can use a loom that you already own. The stitch used to make these snowmen is the e-wrap, also called the twisted stockinette.

I'd use this cozy from the "Loom Lore" blog to cover candles, or gift jars, but it says it's for toilet paper. The possibilities are endless.

It uses the red Knifty Knitter loom, and the spool loom for the scarf. This snowman cover was also done in the "e-wrap," or twisted stockinette stitch. I love the burgundy color of the hat and scarf.